The Republican Party held its first debate in the 2024 presidential primary race on Wednesday, bringing together eight candidates to highlight the similarities and differences between their platforms for voters.
Absent from the stage
, however, was the party's clear front-runner: former US President Donald Trump, who is currently embroiled in a massive legal fight related to his attempts to reverse the outcome of the previous presidential election in 2020, which he lost to Democratic candidate Joe Biden.
Vivek Ramaswamy, a political neophyte businessman from New York City and the youngest candidate on the stage at just 38, was the most-searched-for candidate on Google searches that evening, according to US media.
"I think Ramaswamy did a good job of elevating himself as an equal to politicians and candidates who have been doing this for a long time," Nathan Gonzales, editor of Inside Elections, told one US newspaper. "We'll have to see if voters warm up to his message and profile as they hear more from him."
Ramaswamy turned heads with a forceful defense of Trump, who he hailed as the greatest president of the 21st century, but added that Trump needed to step aside and let a newer generation of leaders take over. He has said he would pardon Trump if he were to be convicted of the criminal charges he is currently facing in four separate cases.
Prior to the debate, Ramaswamy held about 10% of prospective GOP voters, according to an
Emerson College poll
released last week. That put him roughly tied with Florida Governor Ron DeSantis for second place in the primary race. However, a survey of viewers conducted by JL Partners immediately after the debate gave the Indian-American businessman a slight lead over DeSantis, albeit within the poll's margin of error.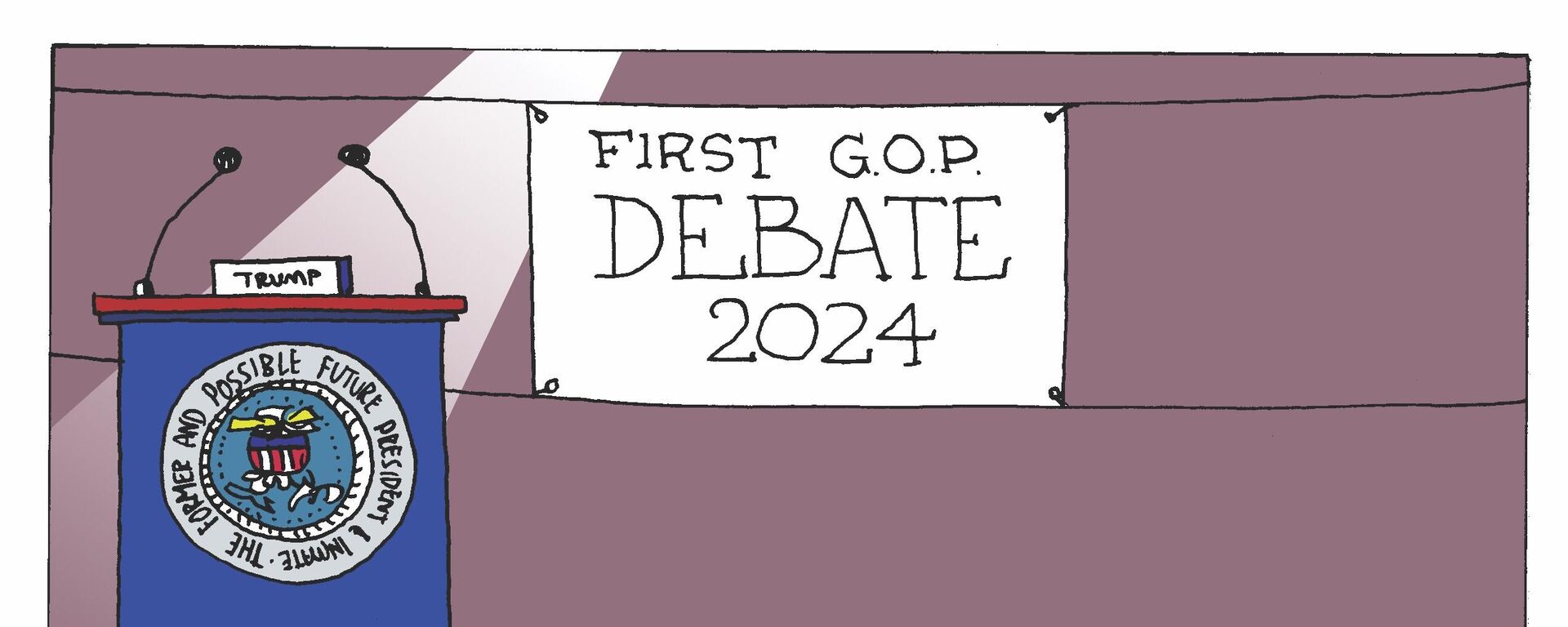 Ramaswamy took wide swipes at his rivals in the debate, accusing them of being "bought and paid for," "professional politicians," and "superPAC puppets." The barbs practically invited attacks by his rivals, with former New Jersey Governor Chris Christie saying Ramaswamy sounded like the ChatGPT AI program, and former UN ambassador Nikki Haley blasting him for having no foreign policy experience.
"Now is not the time for on-the-job training," quipped Mike Pence, who served as Trump's vice president. "We don't need to bring in a rookie."
DeSantis entered the evening seen as the barely-second-place candidate, his ranking having slipped in recent months due to a series of political missteps and unrelenting attacks by Trump. However, compared to Ramaswamy, DeSantis attracted comparatively little offensive fire from his rivals.
© AFP 2023 / BRENDAN SMIALOWSKI
Former US Vice President Mike Pence (L) and entrepreneur and author Vivek Ramaswamy (R) gesture toward Florida Governor Ron DeSantis during the first Republican Presidential primary debate at the Fiserv Forum in Milwaukee, Wisconsin, on August 23, 2023.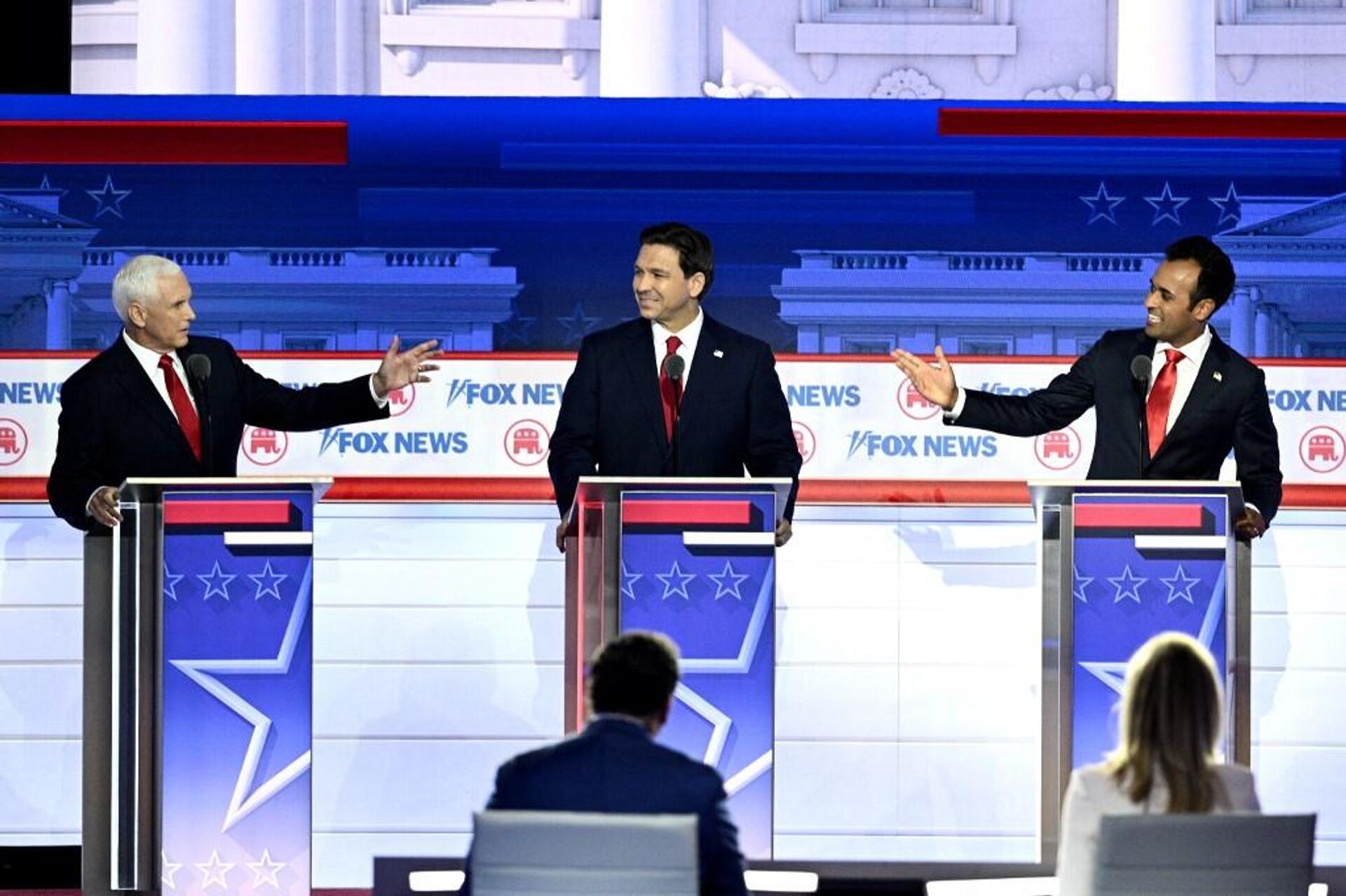 Former US Vice President Mike Pence (L) and entrepreneur and author Vivek Ramaswamy (R) gesture toward Florida Governor Ron DeSantis during the first Republican Presidential primary debate at the Fiserv Forum in Milwaukee, Wisconsin, on August 23, 2023.
Rich Lowry, the editor of the conservative magazine National Review,
said on social media
that the Florida executive "helped himself" with a demure performance and sticking to his political message.
"Vivek was preposterous, got swatted down by Haley, but won exchanges w/ Pence and Christie and had some tremendous answers - his moment will continue," Lowry also summarized, adding that "Nikki Haley was good and outshone Tim Scott," the US Senator from South Carolina, the state where Haley was once governor.
Across the aisle, Biden's former press secretary-turned MSNBC commentator, Jen Psaki, mused that DeSantis was "basically ignored" by his rivals.
A question about a nationwide abortion ban became another moment of contention, as the candidates wrestled with the conservative priorities of restricting or banning abortion on the one hand, and with states' rights on the other.

Haley - the only woman on the stage - attacked her rivals for their uncompromising stance on abortion. Haley urged caution, noting that it would be an incredibly difficult road to passing such legislation, and that her male counterparts' rhetoric could hurt women.
"I think Nikki is going to get a second look from some people based on some stuff she said tonight on abortion," said Kellyanne Conway, a former Trump adviser and political commentator. "I'm very pro-life, but I like what she said - that you don't demonize or punish women. That's important."
Haley also took some swings at Trump, her former boss, saying he contributed enormously to the national debt - another conservative bugbear - and said the GOP "can't win an election" by running "the most disliked politician in America," which drew some boos from the audience.
In the aftermath of the debate, commentators in US media have generally regarded the other candidates, North Dakota Governor Doug Burgum and former Arkansas Governor Asa Hutchinson, as having largely failed to seize the opportunity to win themselves more exposure, spending much of the debate off-screen as their rivals duked it out.